Connecting people and work

Our History
ASTAR Services Group is a Recruitment & Human Resource Group of companies providing workforce solutions in a variety of industries
We originated from our recruitment arm by identifying the needs of our clients and customers to provide an overall complete people and culture service.
With over 40 years of experience in the industry, we are dedicated to continue to exceed our clients expectations and deliver the best outcomes for our clients and candidates.
https://www.astarservicesgroup.com.au/our-brands/
Identify. Source. Recruit. Train. Engage.

Leading recruitment agency in Australia and New Zealand, specialising in career placements for Temporary, Permanent and Contract based roles throughout a wide range of industry sectors.

ASTAR Work Skills offer short non-accredited courses to up skill and test staff going out to our client's sites be it a fork lift operator, or a store person who needs the highest pick accuracy.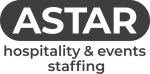 We have a large database of ready to work bartenders, bar staff, waiters, restaurant concierges and many more to fulfill all your staffing needs.

Tailored executive recruitment agency service offered to all industries in need of recruiting mid to senior managerial positions. We understand the importance of recruiting for key professionals at this level.

One stop shop for all your Human Resources & employee relations requirements. Variety of solutions for SME to large organisations, ensuring you are compliant and upto date with all legislative requirements.

Mining recruitment and labour hire solutions across the whole mining industry and across the full lifecycle of your project. ASTAR Mining provides recruitment solutions across Australia and NZ.

Specialist recruitment agency solely focused on employing for the construction and civil sector. We are ready to assist all your recruitment needs from short term one-day projects through to permanent placement.
Let us help you find the right
candidate
Our dedicated consultants are available 24/7 to meet all your recruitment needs. We are a phone call away.